At a Glance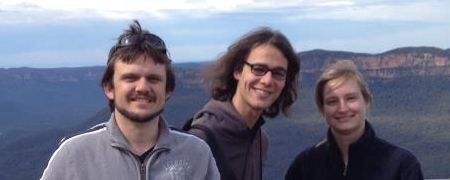 This is the research group of Duncan A. Wild in the School of Molecular Sciences at the University of Western Australia. Our work is aimed towards a deeper understanding of the interactions between molecules, ions, radicals. We fire lasers at ion clusters we produce in the gas phase, and back up our experiments with ab initio calculations (theory).
Former Members:
Damien 't Hart, Honours 2016

Damien used conventional TOF photoelectron spectroscopy and ab initio calculations to investigate the halide-ethylene gas phase complexes.

Dr Marcus Kettner, PhD 2011-15

Marcus' work was aimed towards designing and constructing the VMI spectrometer. He also produced some fine computational work on the Criegee Intermediates, of importance in atmospheric chemistry.

Dr Kim Lapere, BSc (Hons) PhD 2009-15

Kim was the first Honours student to produce publishable results from the TOF-PES apparatus (2009), and continued on to a PhD in the group. Kim has recently graduated and taken up a postdoc position at UNSW under the direction of Prof Scott Kable.

Duncan Beckham, MSc (Physics) 2013-14

Duncan took spectra of the halide-acetylene complexes which has been accepted for publiction in Chem. Phys. Lett.

Richard Bentley-Moyse, MSc (Physics) 2013-14

Richard worked on the transformation of the VMI images, and programmed code for finding the centre of an ellipse which will be important if our VMI spectra are not circular.

Shanee Conran, Honours 2013

Shanee took spectra and performed ab initio calculations on the halide-acetylene complexes which has been accepted for publiction in Chem. Phys. Lett.

Stephen Dale, Honours 2011-2012

Stephen has taken up a PhD position at the Unviersity of California (Merced)

Lin Hian (Henryk) Quak, Honours 2008-2009

Henryk worked on the TOF-PES in the early days, and is now back in Singapore in the Navy

Rob LaMacchia, Honours 2008

Rob constructed the TOF-PES, and then took up a position at Alcoa in Kwinana.
Head to this page for some more group photos [...]
Current Group Members